GigaConnect® 6600AEL R24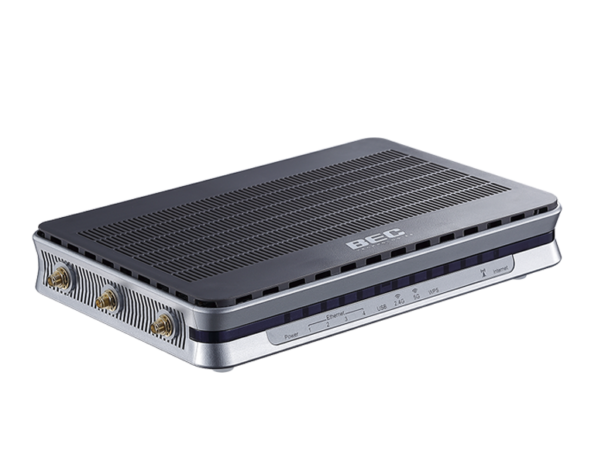 Overview
The BEC 6600AEL R24 Gigabit LTE routers enable the delivery of multi-gigabit broadband connectivity and advanced services to the homes and businesses. Purpose-built for maximum performance, the 6600AEL delivers gigabit speeds over fixed wireless access and FTTH while maintaining high reliability, high security, and low latency.
The BEC 6600AEL R24 features a Dual-WAN interface, Gigabit LTE CAT 18 4×4 MIMO cellular connectivity, and a dedicated Gigabit EWAN interface. The LAN interfaces included a 4-port Gigabit Switch, dual-band 4×4 MU-MIMO Gigabit Wi-Fi, advanced networking, dynamic QoS, and robust firewall security. Service providers now have a cost-effective, scalable platform to meet the ever-increasing demand for higher bandwidth.
Key Features
Ultra-High Speed Mobile
Gigabit LTE CAT 18 delivering peak data rates of 1.2 Gbps downlink and 150 Mbps uplink
Multi-WAN Connectivity
Dual WAN interface, can serve as primary all in one connection or drop-in secondary WAN failover for existing networks.
Instant Wireless Failover
Actively monitors primary for fully automated failover ensuring "Always-On' connectivity
Superior Wireless LAN
802.11AC Wave 2 4×4 MU-MIMO Wireless LAN providing up to 2300 Mbps data rate (1700 Mbps in the 5 GHz band and 600 Mbps in the 2.4 GHz band)
Gigabit Wireline Speed
5 Gigabit Ethernet ports (4 LAN +1 WAN) delivering wire speed performance for high speed applications and services
Advanced Networking
Integrated Dynamic Routing (BGP, OSPF), Secured VPN Termination (up to 40 simultaneous sessions}, automatic failover, load balancing, SPI Firewall, QoS, VLAN and IPv6
Robust Protection and Security
Integrated firewall with Stateful Packet Inspection (SPI), denial of service (DoS) mitigation, filtering and parental control
Specifications
Availability and Resilience
Dual-WAN ports (Gigabit LTE & ETH WAN)
Load Balancing – Maximizing bandwidth of outbound traffic
Auto WAN failover
Supported Frequency Bands
Comply 3GPP Rel.12 with up to 5xCA DL & 2xCA UL
Support Frequency Bands (FDD & TDD) (Cat.18)
Uplink (UL) & Downlink (DL) in MHz
B2 (1850–1910 UL | 1930–1990 DL)
B4 (1710–1785 UL | 2110–2155 DL)
B5 (824–849 UL | 869–894 DL)
B7 (2500–2570 UL | 2620–2690 DL)
B12 (699–716 UL | 729–746 DL)
B13 (777–787 UL | 746–756 DL)
B14 (788–798 UL | 758–768 DL)
B17 (704–716 UL | 734–746 DL)
B25 (1850–1915 UL | 1930–1995 DL)
B26 (814–849 UL | 859–894 DL)
B29 (717–728 DL Only)
B30 (2305–2315 UL | 2350–2360 DL)
B66 (1710–1780 UL | 2110–2200 DL)
B71 (663–698 UL | 617–652 DL)
B41 (2496–2690 DL TDD)
Channel Bandwidth
1.4MHz, 3MHz, 5MHz, 10MHz, 15MHz & 20MHz
RF Characteristics
Maximum Transmit Power: 23 ± 2dBm
Modulation: 256QAM DL / 64QAM UL
LTE Antenna
4×4 MIMO: B2 / B4 / B7 / B25 / B66
2×2 MIMO: All Other Bands
Web-based GUI for Configuration and Management Center
Firewall
Built-in NAT Firewall and Stateful Packet Inspection
Prevents DoS attacks including Land Attack, Ping of Death, etc.
Access Control
IP / MAC / URL / Domain Filtering
USB Application Server
Storage: FTP server and Samba server
Network Protocols and Features
IPv4, IPv6, IPv4 / IPv6 dual stack
IPv6 in IPv4 (6RD) / IPv4 in IPv6 (DS-Lite) / IPv6-464XLAT
NAT, static routing and RIP-1/2
Universal Plug and Play (UPnP) compliant
Dynamic Domain Name System (DDNS)
Virtual server and DMZ
SNTP, DNS relay, IGMP proxy and IGMP snooping, MLD proxy and MLD snooping for video service
Supports port-based Virtual LAN (VLAN)
Quality of Service Control
Traffic prioritization based-on IP protocol, port number, and IP address
Uplink and Downlink Bandwidth Control
Carrier-Grade Wireless LAN
Compliant with IEEE 802.11 a/b/g/n/ac standards
802.11n 2.4GHz 3×3 & 802.11ac 5GHz 4×4 Wave2
5, 10, 20, 40, 80, 80+80, 160MHz Channel Bandwidth
Up to 600Mbps (2.4GHz) & 1700Mbps (5GHz) speed
64/128 bits WEP supported for encryption
Wireless security with WPA-PSK, WPA2-PSK, Mixed WPA/WAP2-PSK, (TKIP/AES), 802.1x/Radius
AP, Client Bridge, and WDS Operational Modes
Multiple SSID (4 SSIDs), BSSID, Band
Wireless MAC filtering, Wireless Client Isolation
Wi-Fi Hotspot with Captive Portal
Dynamic, Wi-Fi client rate-limiting
Supports up to 4 Spatial Streams & TX Beamforming
Supports Hardware-based Airtime Fairness (QoS)
VPN/Tunneling (Optional)
IPSec, OpenVPN, PPTP, L2TP VPN Tunneling
GRE (up to 8 tunnels)
Embedded PPTP / L2TP / IPSec / OpenVPN Client and Server
IKE Key Management
MPPE Encryption for PPTP
IPSec DES, 3DES, and AES encryption
Management
Quick Installation Wizard
Web-based GUI for remote and local management
Firmware upgrade and configuration data upload and download via web-based GUI and over-the-air
Supports DHCP server/client/relay
TR-069 supports remote management
BECentral® Cloud Management
SNMP v1, v2, v3, MIB-I, and MIB-ll support
Syslog monitoring
SMS Control function for status and reboot
Physical Interface
LTE: (4) SMA female connectors
Wi-Fi
(2) External female RP-SMA connectors
(2) Internal antennas
Power On/O button
Power Jack
USB 2.0 : (1) port
Ethernet LAN: 4-port 10/100/1000Mbps auto-crossover (MDI/ MDI-X) switch – 1 x Versatile Port (LAN#4 / WAN)
SIM Card Slot (2FF)
Reset button
Wireless On/O and WPS push button
LED indicators
Physical Specifications
Dimensions: 9.04″(W) x 6.10"(D) x 1.69″(H) (229.5 mm x 155 mm x 43 mm)
Power Requirements
Operating Environment
Operating temperature: 32° to 104°F ( 0° to 40°C )
Storage temperature: – 4° to 158°F ( -20° to 70°C )
Humidity: 20 ~ 95% non-condensing
Documents