GigaConnect® 9900VA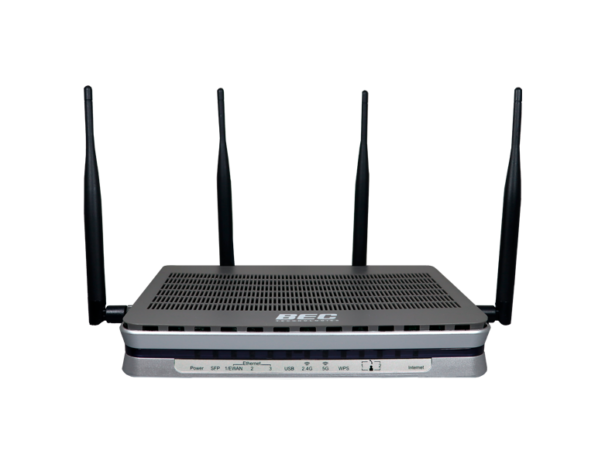 Overview
The BEC GigaConnect® 9900VA Active Ethernet Fiber Gateway with VoIP features a combo WAN interface, an optical Small Form Factor Pluggable (SFP) or Gigabit RJ-45.   In addition, the 9900VA integrates a 3-port Gigabit Ethernet Switch, advanced Voice over IP (VoIP) telephony, advanced routing, Quality of Service (QoS) , high-powered Wi-Fi 5 data rates up to 2Gbps, advanced firewall security including stateful packet inspection and remote management.
It's designed for applications,
Point-to-Point (PSP) FTTH
High-Speed Internet (HSI)
Triple-Play Services
Traditional and Routed IPTV
Voice over IP (VoIP) telephony
Over The Top (OTT) Services
Video Calling/Conferencing
Multiple HD Video Streams
Multi-Player Gaming
Home Security, Automation and Control
Key Features
Flexible Deployment Options
Combo 100/100BASE Optical Small Form Pluggable (SFP) or RJ-45 Gigabit WAN interfaces delivering high-performance wired speed routing
Superior Wireless Performance
Wi-Fi 5 technology 4×4 Wave 2 MU-MIMO, spatial diversity, Turbo QAM and the highest transmit power within FCC limits for both 2.4 GHz and 5 GHz bands to maximize signal propagation and coverage
Advanced Telephony Features
Connect to two analog phones or one phone and fax through the IP network for smooth, high-quality voice communications
Dynamic Quality of Service (QoS)
Automatic prioritization techniques to allocate more bandwidth to delay/latency-sensitive applications such as IPTV, OTT streaming, gaming, and voice
Robust Protection and Security
Integrated firewall with Stateful Packet Inspection (SPI), denial of service (DoS) mitigation, filtering, and parental control
Multiple Configuration Profiles
Up to 8 completely custom profiles with configurable transitions can be created to support tiered service offerings, connectivity over multiple WANs, VLANs,
multiple service networks or simply backup/test profiles
Save to Default
Known good working network configurations are maintained in event that the subscriber presses the reset button, or in the case of a brownout/blackout. On the fly config changes can be saved and retained indefinitely.
Cloud Management and Network Visibility
BECentral®, BEC's Cloud Management Platform, is designed to minimize deployment, lower support expenses, and maximize the operational efficiency and profitability of the operator. Includes support for FCC performance measurements with automated test execution, and report generation.
Specifications
Availability and Resilience 
Dual-WAN ports (SPF & Ethernet WAN)

Load balancing – Maximizing bandwidth of outbound traffic

Auto failover between SFP and EWAN 
SPF Specifications 
IEEE 802.3 10Base-T

IEEE 802.3u 100Base-TX

IEEE 802.3ab 1000Base-T

IEEE 802.3z 1000Base-SX / LX4G 
Network Protocols and Features 
IPv4, IPv6, IPv4 / IPv6 dual-stack

IP Tunnel IPv6 in IPv4 (6RD)

IP Tunnel IPv4 in IPv6 (DS-Lite)

NAT, static routing and RIP-1/2 

Universal Plug and Play (UPnP) compliant

Dynamic Domain Name System (DDNS)

Virtual server and DMZ

SNTP, DNS relay, IGMP proxy, and IGMP snooping for video service

 MLD proxy and MLD snooping for video service

Supports port-based Virtual LAN (VLAN) 
VoIP 
Compliant with SIP standard (RFC3261)

Audio Codec: G.711 A-Law, G.711μ-Law, G.729

DTMF Method: In-band/out-of-band (RFC 2833), SIP Info

Caller ID Generation: DTMF, FSK

FAX Transmission: T.38 Fax Relay, G.711 Pass-through

Silence Suppression, Voice Activity 

Detection(VAD), Comfort Noise Generation (CNG), G.168 Echo Cancellation, Packet Loss Concealment, Call Waiting, Conference Call

Speed Dial, Return Call, Redial, Don't Disturb 

Call Detailed Records(CDR) 
USB Application Server 
Storage: FTP server and Samba server 
Firewall 
Built-in NAT Firewall

Stateful Packet Inspection (SPI)

Prevents DoS attacks including Land Attack, Ping of Death, etc.

Access Control

IP Filtering, MAC Filtering, URL Filtering 
Carrier Grade Wireless LAN 
Compliant with IEEE 802.11 a/b/g/n/ac standards 

2.4GHz & 5GHz frequency range

20/40-MHz channel bandwidth

Up to 300Mbps (2.4GHz) & 1700Mbps (5GHz) wireless data rate

64/128 bits WEP supported for encryption • Wireless security with WPA-PSK, WPA2-PSK, Mixed WPA/WAP2-PSK, (TKIP/AES), 802.1x/Radius

AP, Client Bridge, and WDS Operational Modes

Multiple SSID (4 SSIDs), BSSID

Wireless MAC filtering

Wireless Client Isolation

Wi-Fi Hotspot with Captive Portal

Dynamic, Wi-Fi client rate-limiting 
Quality of Service Control 
Traffic prioritization based-on IP protocol, port number, and IP address 
VPN/Tunneling (Optional) 
IPSec, OpenVPN, PPTP, L2TP VPN Tunneling • GRE (up to 8 tunnels)

Embedded PPTP / L2TP / IPSec / OpenVPN Client and Server

IKE Key Management

MPPE Encryption for PPTP

IPSec DES, 3DES, and AES encryption 
Dynamic Routing Protocols (Optional) 
Management 
Quick Installation Wizard

Web-based GUI for remote and local management

Firmware upgrade and configuration data upload and download via web-based GUI

Supports DHCP server/client/relay

TR-069 supports remote management

SNMP v1, v2, v3, MIB-I, and MIB-II support

Syslog monitoring 
Physical Interface 
5 GHz Wi-Fi – Four (4) External Female RP-SMA Connectors

2.4 GHz Wi-Fi –Two (2) Internal Antennas 

Power On/Off Button

Power Jack

Optical SPF 100/1000BASE auto-sensing port

Gigabit Ethernet LAN: 3-port auto-crossover (MDI/ MDI-X) switch

1 x Versatile Port (LAN1 / EWAN) 

USB 2.0: One (1) Port

Wireless On/Off and WPS Push Button 

Reset Button

VoIP: Two (2) RJ-11 FXS interface ports

LED Indicators 
Physical Specifications 
Dimensions: 9.04″(W) x 6.10"(D4) x 1.69″(H) (229.5 mm x 155 mm x 43 mm) 
Power Requirements 
Operating Environment 
Operating temperature: 32 to 104o F (0 to 40o C) 

Storage temperature: – 4 to 158o F (- 20 to 70o C) 

Humidity: 20 ~ 95% non-condensing 
Documents